---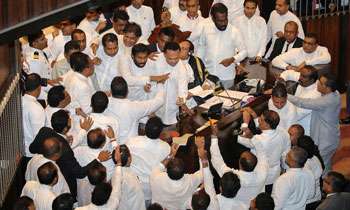 Deputy Speaker J. M. Ananda Kumarasiri said simply suspending MPs who misbehaved in Parliament in November last year would be useless if no legal action was taken against them.
He said the report on the incident would be useless if the MPs were simply suspended without taking action against them.
The report on the incident was handed over to the Speaker yesterday
He said that none of the MPs identity or political parties was revealed yet but many MPs have involved the incident.
"I believe that action will be taken according to the Parliamentary Privileges Act and their such incidents would be prevented in the future.
"No proposal could be made on legal action taken against MPs but certain punishments should be given to the MPs who were found to be involved in the incident," he said.
Speaker Karu Jayasuriya appointed a committee of six members consisting of former Speaker Chamal Rajapaksa and MPs including Ranjith Maddumabandara, Chandrasiri Gajadeera, Bimal Rathnayake and Mavai S. Senathirajah to investigate the incident.
"We had meetings covering the entire incident that took place in Parliament but Chamal Rajapaksa and Chandrasiri Gajadeera did not take part in the committee.
"Seven sessions have been taken to take into all the video footage that had happened within the Chamber. Later, we managed to identify the MPs who have involved the incident," Deputy Speaker Kumarasiri said.
"A list of the MPs had been compiled. We requested the Criminal Investigations Department (CID) to hold a separate investigation with regard to the incident to identify whether the public property was damaged and officials of the Government were harassed.
"Investigations were carried out regarding the incident based on the Parliamentary Privilege Act," he said.
"On that basis, a report was submitted to the Speaker last afternoon, it was handed over to the Attorney General's Department. After that, the AG will look into the report and action would be taken after he written back to the Speaker. Apart from that, the CID had also submitted a report over their investigations was handed over to the Speaker.
"Based on the investigations on the parliamentary powers and privilege Act, if the AG feels that there were pieces of evidence or facts that he could conduct on the basis of the report he would take actions on that. The AG can proceed the case to the Supreme Court to get a ruling on the entire process. (Indika Sri Aravinda)
By Indika Sri Aravinda