---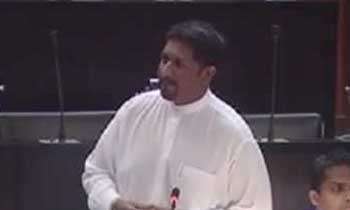 The young men who were arrested in Wanathawillluwa for possessing firearms and explosives have links to a certain group, State Minister of Defence Ruwan Wijewardene told Parliament on Wednesday.
Mr. Wijewardene came out with these details in response to a question raised by UPFA MP Padma Udayashantha Gunasekera as to what action the government had taken against the suspects.
"We have taken the matter seriously and I would like to say that police have searched the Latose Estate and arrested 11 persons who have been remanded. They will be produced in courts again on February 13 ," Mr. Wijewardene said.
"These persons have collected weapons and explosives in the guise of running a poultry farm in the estate," he added.
Mr. Wijewardene said government will not tolerate any kind of extremism be it Sinhala Buddhist extremism, Muslim Extremism or Tamil extremism.
Mr. Gunasekera who raised the issue said the government should take this matter seriously and stop the spread of extremism.
"We were living together for so many years till terrorism started in this country with the killing of Alfred Duraiappah," he said adding not to allow any form of terrorism to raise it head here.
MP Jayanatha Samaraweera said other religions and communities will be safeguarded if Buddhism is safeguarded. "Some interested groups are trying to set other communities against the majority community in this country," he said. (Yohan Perera and Ajith Siriwardana)