---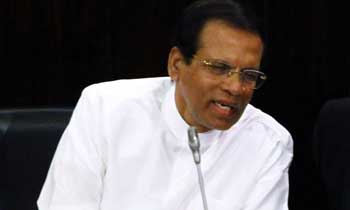 President Maithripala Sirisena said yesterday that the support of all parties is necessary to enact a new Constitution which ensures a Unitary State and strengthens Parliament.
President Sirisena made this remark after opening the special session of the House held to mark 70 years of Parliamentary democracy in Sri Lanka last afternoon.
"Our aim is to strengthen Parliament while ensuring the unitary status of the country and the support of every MP belonging to all political parties is essential to fulfil it" the President said.
"Let's strive towards fulfilling our responsibility of building a secured future for those who will be born tomorrow" he added.
He recalled that Parliament was weakened by the 1978 Constitution and it was further weakened by the 18 Amendments to the Constitution. The President recalled that the present government was able to strengthen the legislature by the 19th Amendment to the Constitution. "We were able to increase powers of Parliament by repealing the 18th Amendment with the mandate of the people given to us on January 8, 2015" the President said in this regard.
The President added that leaders of the past including late Prime Ministers D.S. Senanayaje, S.W.R.D. Bandanaike, Dudley Senanayake, J.R. Jayawardene, R. Premadasa and former President Chandrika Bandaranaike Kumaratunga, late D.B. Wijetunga and former President Mahinda Rajapaksa who all served the nation for the last 70 years should be remembered when celebrating the glorious history of parliamentary democracy in the country.
Mr Sirisena who welcomed the speakers of SAARC region who had come to celebrate with Sri Lanka called for a joint effort of all south Asian countries to achieve economic development and ensuring political ties. " Let's strive towards turning our respective nations into fortunate and quality states " he said. (Yohan Perera and Ajith Siriwardana)