---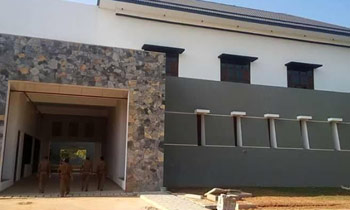 The opening of the new prison (in Angunukolapelessa, Hambantota) known as the 'Super Prison', which was to take place March 16, has been postponed indefinitely, the Ministry of Prison Reforms said yesterday.
The prison facility which was built at an estimated cost of Rupees five billion on a land more than 40 hectares in extent was to be opened with the participation of President Maithripala Sirisena, who later declined the invitation.
Speaking to Daily Mirror, the Ministry of Prison Reforms' media secretary Dumidu Bandara said the opening had been postponed as some units had not been completed.
However, Mr. Bandara said that they should completed by this August according to the conditions of the contract, and that the ministry intended to open the facility as soon as possible.
On a field visit to the prison, Daily Mirror learned the construction of the prison's kitchen and the hospital had not been completed It was also reported that the water supply system had not been installed and the indoor stadium also lacked indoor finishing and sports equipment.
The new complex will house the inmates of Tangalle Prison, which is in poor condition. Certain parts of the Tangalle Prison are liable to collapse due to the roof leaking. The over 350 inmates of this prison undergo much hardship due to the poor living conditions.
The 'Super Prison' has been constructed according to the international standards; long term prisoners are to be sent there. (Thilanka Kanakarathna)