---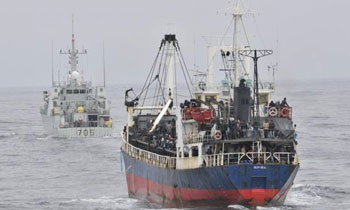 Defence lawyers made their final pitch to the jury at a human-smuggling trial yesterday, arguing their clients provided humanitarian assistance to Sri Lankan Tamils fleeing persecution in a country ravaged by civil war, challenging the Crown's view that the accused illegally organized the MV Sun Sea's arrival in Canada, the Globe and Mail reported today.
Kunarobinson Christhurajah, Lesly Emmanuel, Nadarajah Mahendran and Thampeernayagam Rajaratnam have each been charged under the Immigration and Refugee Protection Act with organizing the cargo ship's voyage across the Pacific. The MV Sun Sea docked in B.C. in August, 2010, carrying 492 people – 380 men, 63 women and 49 children. The ship was the second Tamil migrant vessel to arrive in the province in less than a year and drew considerable attention.
The trial for the four men began in B.C. Supreme Court in October and closing arguments started Thursday.
Casey Leggett, the lawyer representing Mr. Christhurajah, reminded the jury it heard from 10 Crown witnesses who were aboard the ship. Mr. Leggett said those witnesses described the horrific violence they had endured in Sri Lanka – one man testified his younger sister was killed when their house was hit by a bomb, another said he was tortured by police and others described fleeing to refugee camps or young men being taken away in white vans and never heard from again.
Mr. Leggett said there is no evidence his client profited financially from the voyage. He said Mr. Christhurajah has been accused of helping passengers find accommodation before the trip and handing out food, among other things. However, Mr. Leggett said dozens of people volunteered and did whatever they could to ensure the MV Sun Sea and its passengers safely made it to Canada.
"My submission is that there is no evidence from which you could draw the conclusion that my client, Mr. Christhurajah, was not acting for a humanitarian purpose," he said.