---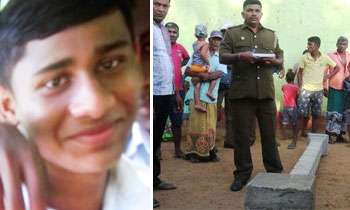 A 16-year-old student of Budugehinna Central College in Galkiriyagama, was killed when a concrete post at the school grounds fell on him last evening.
Investigations revealed that the student was injured when a concrete post at the school's sports pavilion that was under construction, fell on the student while he was engaged in sports activities.
Police said the Grade-11 student, Sashidu Krishan Karunathilake, a resident of Watagala, died after admission to the Galewela Hospital. Following the death of the student, a tense situation prevailed at the school today when a group of parents urged the police to arrest the school principal over the tragedy.
The protesting parents had reportedly held the school principal captive in a room for nearly four hours. Amidst the protest, the Kekirawa Acting Magistrate arrived at the school and had conducted an examination of the scene.
New Governor of the North Central Province, Sarath Ekanayake, also arrived at the school to look into the incident. He had instructed that two investigations be conducted, one from the Governor's office and another from the Education Ministry regarding the incident.
He also informed that an investigation should also be conducted into the construction carried out at the school on the instruction of the school principal. The deputy principal informed the parents and students that the school will be closed for January 11. (Kanchana Ariyadasa)