---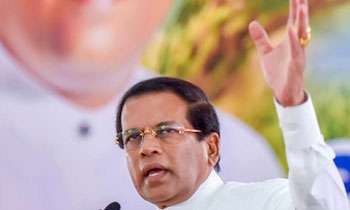 President Maithripala Sirisena said yesterday that the current political crisis in the country is not a conflict between the political parties or between him and UNP leader Ranil Wickremesinghe as some people attempt to portray, but a conflict between the national and alien thinking.
When I act according to the principles of nationalism without giving into foreign forces and without intimidated by their threats, foreign forces have now become a challenge and the shadows of the old Imperialism stand in our way, he added.
Speaking at a function held at the Polonnaruwa Royal College to give away livelihood development benefits to 4500 persons in his native Polonnaruwa District, President Sirisena said that despite there being criticism on the activities of the government during the last four years, it is well known that democracy, freedom of the people, freedom of the press had been strengthened during the period.
Whatever criticism had been levelled, democracy and freedoms for the people have been ensured in the country during the period compared to the period prior to 2015 and a wide range of development activities such as the Moragahakanda-Kaluganga project are being in progress, he stressed.
The current crisis is the result of the concern by the world powers over the affairs of our country due to Sri Lanka's geographical importance or its location in the world map, President stated.
He added that the issue has come up now as a Constitutional crisis and the entire world is eagerly waiting for the decision of the court. He assured that he would accept the decision of the court whatever it would be and take necessary action accordingly.
He said that he was not satisfied with the powers conferred with the Presidency which should not been the case. "I have been delivering my duties with much more patience and responsibility during the past few days when there is no Prime Minister and a Cabinet" the President stated.(K.G. Karunarathna)