---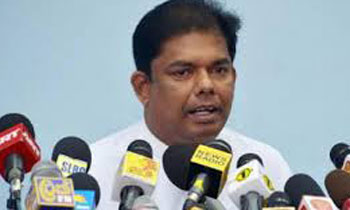 The Cabinet today decided to take strict action according to the law against elements that attempt to create communal tension and disharmony in the country, the Government said today.
The Government accordingly will instruct all Police stations to be vigilant on those who attempt to create tension among communities and apply law strictly on them.
Cabinet Spokesman, Land and Parliamentary Reforms Minister Gayantha Karunathilaka told a hastily convened news briefing in the Parliament Complex last afternoon that the Cabinet that met after the mini Cabinet reshuffle on Monday was concerned about the statements made by certain groups and individuals that had contributed to heightened the communal feelings.
"There are extremists in all parts of the country among all communities and they wait for opportunities to create ethnic unrest. They use the freedom given to them by this Government for their ulterior motives. But the Government is committed to ensure each and every citizen new freedom without hindrance from any party or group," Minister Karunathilaka said.
The law enforcement authorities will act according to the law in a more vigorous manner to arrest this negative trend and maintain law and order and inter-communal harmony, Minister Karunathilaka stressed. (Sandun A Jayasekera)