---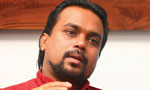 The statement made by Media Ministry Secretary on the Joint Opposition indicated the 'bankrupt' status of the Government and how 'helpless' the Government had become before the Joint Opposition, National Freedom Front (NFF) Leader and MP Wimal Weerawansa said today.
While condemning the statement, the MP said there was no need to ask for permission from the Secretary of the Media Ministry on using a name and asked what his issue was over using the name 'Joint Opposition'.
"Even the United National Party (UNP), when in the Opposition formed a Joint Opposition with several other parties. Then Government said nothing and no statement was issued by Ministry Secretaries," he said.