---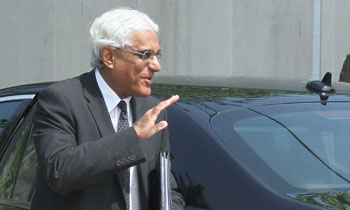 Central Bank Governor Dr. Indrajith Coomaraswamy today arrived at the Presidential Commission of Inquiry (CoI) to record his evidence on the controversial Central Bank bond issue.
Meanwhile, the public hearings on the bond issue are being held at the commission office in the Courts Complex at Court Avenue from today.
The CoI is comprised with Supreme Court Judges K. T. Chithrasiri and P.S. Jayawardena, and retired deputy auditor general K. Velupillai.
The commission was appointed by President Maithripala Sirisena in January with a mandate to inquire into the bond issue and submit a report with a March 31 deadline.
The commission met for the first time on February 6, to map out its procedure of work. (Kalathma Jayawardhane)
Video by Courts Prasanna