---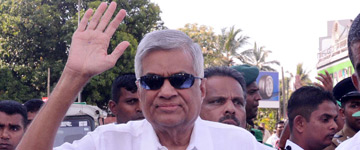 The state institutions will be made profitable ventures without privatising them, said Prime Minister Ranil Wickremesinghe in his May Day address. He said these institutions would be placed under a Public Wealth Trust giving more and more benefits to the people at large.
"These public properties will come under the Public Wealth Trust and be owned by the people. The value of this trust will be more than the total value of all blue chip companies in the country. The state banks can also come under it, " he said, speaking at the United National Party's (UNP's) May Day rally at Campbell Park last evening.
"The proceeds of all institutions that come under the wealth trust will be put in a special fund which will also be controlled by the people," he said.
He averred that no state institution would be privatised. He said the government would see to it that these institutions do not become a burden on the people.
He also pledged to introduce a new salary scheme to the public and private sector. "A new salary system will be introduced by the year 2020. It will be based on the cost of living unlike the existing system which is based on a minimum salary. This will be implemented through a collective effort of businessmen, workers and the government," he said.
A number of other pledges were made by the Prime Minister. They included doubling the GDP by 2023 and constructing an elevated highway from Peliyagoda to Colombo City.
"Many made sacrifices to bring President Maithripala Sirisena to power and to form a national government. You went through a lot of hardship to fulfil this objective. Now it is the time to reward the people who made sacrifices to bring this government to power. This is a time when we will work for the well being of the people and the country. We set up oversight committees. We did all this to give concessions to the people, he said.
Criticising the joint opposition, he said the opponents of the government were talking of holding anti-UNP rallies. "What does anti-UNP mean? Is it pushing the country into a debt trap of Rs 400 billion? Is it purchasing luxury aeroplanes and spending lavishly. They have used Rs 1000 billion of state funds for their personal use. No wonder they oppose the FCID," he said.
UNP Deputy Leader Sajith Premadasa and Ministers Harin Fernando, Akila Viraj Kariyawasam and Ravi Karunanayake also spoke at the rally. The presence of Minister Rajitha Senaratne was a notable feature.
A resolution was passed to add the Rs 10,000 increment given to the public sector workers to the basic salary by the year 2020 and to make the Rs 2500 increment given to private sector compulsory and to allow public servants to continue working till they reach the age of 60 instead of putting them under contract when they reach 55. These were read out by Minister Ranjith Madduma Bandara at the rally. (Yohan Perera)
Video by Danushka