---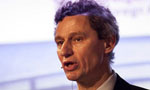 State Secretary of the Ministry of Foreign Affairs of Norway, Tore Hattrem, is scheduled to visit Sri Lanka from 31 May - 2 June 2016, Sri Lanka Foreign Ministry said.
The State Secretary will meet the Minister of Foreign Affairs Mangala Samaraweera, where discussions are expected to take place on follow-up to the visit in January this year of the Minister of Foreign Affairs Børge Brende.
State Secretary Hattrem will also meet the Leader of Opposition R. Sampanthan, Minister for development Strategies and International Trade Malik Samarawickrama, Minister for Urban Development, Water Supply and Drainage Rauff Hakeem, and the Secretary General of the Secretariat for Reconciliation Mechanisms Mano Tittawella. He will visit Jaffna on 1st June where he will meet the Governor of the Northern Province Reginald Cooray and Chief Minister Justice C.V. Wigneswaran.
He had served as Ambassador to Sri Lanka from 2007 to 2010.