---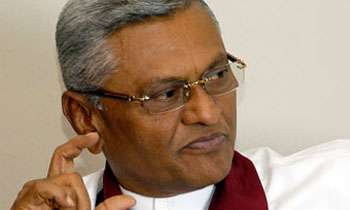 Former Speaker and UPFA Parliamentarian Chamal Rajapaksa yesterday said he would step down as an MP if anyone comes up with the minutes of the Srilankan Airlines Board meeting which was allegedly to have been held at his official residence on March 1, 2013.
" I will resign from from parliament if anyone proves that important decisions on SriLankan were made during this meeting," Mr. Rajapaksa said.
The MP said this in response to allegations made by Deputy Minister Ranjan Ramanayake and COPE Chairman Sunil Handunnetti that a SriLankan Airlines Board meeting had been held at Mr. Rajapaksa's residence where the decision to bring down wide bodied aircraft was made.
Mr. Rajapaksa said he was willing to accept the responsibility if the allegations were proved. "My son was also in the board of the national carrier. If one does something wrong he is guilty no matter whom. Therefore I will accept the responsibility if the allegations that are being made are proven," he said.
Mr. Handunetti then read out the audit report submitted to COPE by the Attorney General which said the SriLankan Airlines management had said there was a board meeting held at the official residence of Mr. Rajapaksa on March 1, 2013 and that some important decisions were made. Mr. Handunnetti quoting the audit report said SriLankan Airlines management had not handed over the minutes to the Auditor General.
Mr. Ramanayake then said this was a sensational case as the minutes of the SriLankan Airlines board meeting had gone missing. (Yohan Perera and Ajith Siriwardana)