---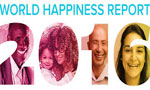 Sri Lanka climbed 15 notches to 117 in the latest World Happiness Report when compared to its previous rank of 132 in 2015.
The World's Happiness Report-2016 was compiled by a group of international academics on the people's well being, GDP Per Capita and healthy life expectancy in 157 countries.
The study, edited by US economists John Helliwell, Jeffrey Sachs and Richard Layard, head of the Well-Being Programme at the London School of Economics, ranked the countries by a series of factors.
Sri Lanka's neighbors India ranked at 118, Pakistan 92, Bhutan 84, Nepal 107 and Bangladesh at 110.
Denmark topped the list as the happiest nation followed by Switzerland, Iceland, Norway and Finland while, Burundi was ranked as the least happy country followed by Syria, Togo and Afghanistan.