---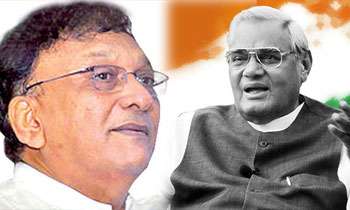 Sri Lankan cabinet minister and Leader of the House Lakshman Kiriella will attend former Prime Minister Atal Bihari Vajpayee's funeral on Friday, as an envoy of Sri Lanka, authorities said.
Various Sri Lankan leaders paid rich tribute to the three time-PM, hailing him as a "friend of Sri Lanka."
In a tweet on Thursday, President Maithripala Sirisena said: "Today, we have lost a great humanist and a true friend of Sri Lanka. Former Prime Minister of India Atal Bihari Vajpayee was a visionary leader and an ardent defender of democracy. My condolences to his family and millions of his admirers around the world."
Opposition Leader R. Sampanthan said India has lost one of its "most regarded intellectual and statesman". "He served the great country of India with humility and honesty, and he was much loved and respected by millions of people across the world. Former three-time Prime Minister Vajpayee is also an exceptional orator and a leader with a great sense of humour, his speeches within the Indian parliament and outside will always be remembered," he said in a statement, extending his condolences on behalf of the Tamil people of Sri Lanka.
Recalling Mr. Vajpayee's contributions to bilateral ties between India and Sri Lanka, Foreign Secretary Prasad Kariyawasam said India-Sri Lanka relations "were blessed" by Mr. Vajpayee's "futuristic policies". "I was privileged to have met him as the Deputy High Commissioner at the time. The India-Sri Lanka FTA, the first free trade agreement for both countries, stands testimony to his visionary leadership," the top official tweeted.
In his condolence message Prime Minister Ranil Wickremesinghe said Mr. Vajpayee played a vital role in ensuring the stability of Sri Lanka. "I am deeply saddened by the death of Shri Atal Bihari Vajpayee who was a true friend of Sri Lanka. Shri Vajpayee led India during the transition of global geopolitics and ensured that his country rose in International stature. He also followed proactive policy of reaching out to India's neighbours in South Asia and South East Asia," Mr. Wickremesinghe said in a statement. "I have had the privilege of knowing Shri A.B.Vajpayee since 1975. Furthermore, we had a close working relationship during my tenure as Prime Minister from 2001 to 2004," he said, adding: "I will continue to treasure the memories of my friendship with this great man." (Hindu)