---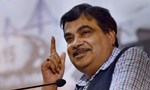 Sri Lanka is also "interested" in the project to build a bridge connecting both the countries, Indian Road Transport, Highways and Shipping Minister Nitin Gadkari said on Monday.
"The project is under consideration, it is under discussion. But nothing has been finalised," Gadkari told journalists at the Foreign Correspondents Club in New Delhi, the Business Standard reported.
He said discussions have been held on the issue with Sri Lankan President Maithripala Sirisena and Prime Minister Ranil Wickremasinghe. Even the Asian Development Bank has made a recommendation regarding the project.
However, on March 23, Mr. Wickremasinghe said that no formal talks between India and Sri Lanka had started on the project.
The issue had figured in the Sri Lankan parliament as well.
Gadkari, who had earlier favoured the Sethu Samundran project, declined to answer any question on the same, saying the model code of conduct is in place in Tamil Nadu in view of the assembly election.