---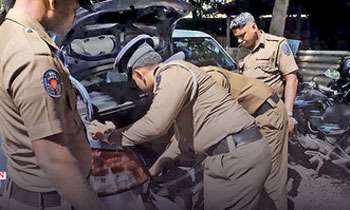 The police and the Police Special Task Force are conducting special raids and search operations on individuals and their residences who have connections with drug kingpin Makandure Madush and other suspects who were recently arrested in Dubai.
Gandara Police on Saturday arrested a soldier attached to a Vavuniya army camp for allegedly supplying weapons and military uniforms to Anushka Kavishal alias 'Thalalle Janga' who was arrested in Dubai along with underworld figure Makandure Madush.
Earlier, the police recovered 18 uniforms similar to that of the army along with 23 T-56 bullets which were found yesterday from the residence of "Janga" in Gandara, Matara. The soldier was arrested following the recovery of weapons and uniforms. Investigation revealed that the arrested soldier is a relative of Thalalle Janga. He was to produced before the Matara Magistrate's Courts yesterday.
Meanwhile, a car belonging to the mistress of Makandure Madush was seized by the police on Saturday in a house at Poregedara in Padukka. The owner of the house, where the vehicle bearing the registration number KX - 1781 was parked, along with his son have also been arrested. Police said that the duo returned to the country from Dubai about two months ago.
Meanwhile, a car suspected to have been used by actor Ryan Van-Rooyen who was also arrested along with Makandure Madush, was found in Mirissa in Matara on Saturday. The vehicle was found from a hotel belonging to Sunshine Sudda who was also arrested in Dubai. The police also recovered 5.75 grams of marijuana from the car.
Makandure Madush and about thirty other suspects were arrested in Dubai on February 4 and it was reported that they were to be presented before Courts in the United Arab Emirates (UAE) yesterday.
It was reported that the Dubai Police had carried blood and urine tests on the arrested suspects.
The STF on Thursday searched the houses of singer Amal Perera and actor Ryan Van Rooyen and the brother of Ryan was arrested during the search operation.
The sleuths also searched Amal Perera's house at Maharagama and actor Ryan Van Rooyen's house at Dehiwala following the duo's arrest in Dubai.
The STF found two empty cocaine pouches were recovered from Amal's house and a digital scale and a bag with a false bottom at Ryan Van Rooyen's house in Dehiwala.(Darshana Sanjeewa, Krishan Jeewak and Buddika Kumarasiri)