---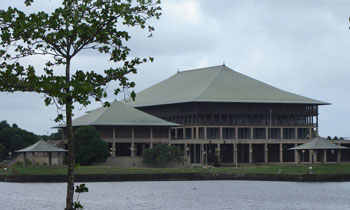 A special Parliamentary Session would be held on October 3 to mark the 70th Anniversary of Parliament, Speaker Karu Jayasuriya said on Saturday.
He said Speakers of the South Asian Association for Regional Cooperation (SAARC) would be invited to the occasion. He said senior politicians would also participate in the event.
"It was a praiseworthy that we have been able to hold Parliament for seventy years despite many obstacles including the failed coup attempt in 1960, youth unrest in 1971, 1989 and the 30-year war," he said.
"It is important that we have been able to uphold democracy despite these obstacles," he said.
Speaking at a workshop for journalists covering Parliament, Mr. Jayasuriya said that the Sri Lankan Parliament had been brought to a respectable position today where even the Inter Parliament Union (IPU) President, said that Sri Lankan Parliament was a role model for other countries.
"We have trained about 70 young Parliamentarians throughout the world," he said.
He said a few Parliamentarians had acted indecently during the recent past to discredit Parliament and added that new Standing Orders and Code of Ethics for MPs that had been presented in Parliament would be taken for debate on the 22nd.
He said that according to the new Standing Orders, the Subject Minister should be there to answer oral questions asked by the MPs.
"Otherwise, it would be considered an insult to the particular MP and Parliament", he said. (Ajith Siriwardana)