---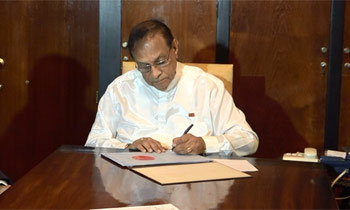 Speaker Karu Jayasuriya placed his signature to the Local Government Election (Amendment) Act in Parliament today, paving the way to conduct local government polls in January, as pledged by Elections Commissioner Mahinda Deshapriya and Local Government and Provincial Councils Minister Faizer Musthapha..
Mr. Jayasuriya speaking at the occasion said the delay in conducting local government polls had created some uncertainty in the country because the grassroots level administration was carried out by the local government bodies.
He added that the conducting of early local government polls were extremely vital to expedite the development process and to end public concerns. The Act which was passed in Parliament on October 2, brought amendments to the Municipal, Urban and Pradeshiya Sabha Acts.
Local government bodies are closely associated with the day to day activities of the people and therefore, it is the responsibility of all concerned to hold local government polls sooner than later, Mr. Jayasuriya said.
He pointed out that the most important and progressive feature in the newly introduced local government election law was the opportunity given to voters to elect their local government member directly through the first past the post system and the abrogation of the highly criticized preferential voting system.
He said several countries have pledged him support to further assist in strengthening the local government administration.
Mr. Jayasuriya expressed his gratitude to Minister Musthapha for his efforts in enacting the local government electoral law in a speedier and fair manner to the satisfaction of all stakeholders including minority parties.
Minister Musthapha and Secretary General of Parliament, Dhammika Dassanayaka were also present at the event. (Sandun A Jayasekera)