---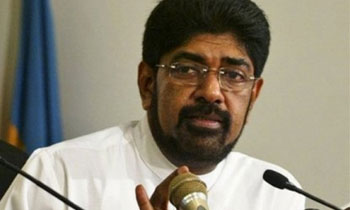 Speaker Karu Jayasuriya must be held responsible for the commotion that took place in parliament yesterday because it was he who had failed to obtain a copy of the bond commission report, the joint opposition said.
JO member and MP, Keheliya Rambukwella told a recent news conference that the Speaker had been influenced by Prime Minister Ranil Wickremesinghe.
"Party leaders met on Tuesday to discuss the letter sent by the Prime Minister requesting to summon the parliament to debate the bond commission report. In fact it was MP Dinesh Gunawardena who had written to the Prime Minister asking him to request the Speaker to summon parliament under Standing Orders," he said.
Subsequently, the party leaders had met and decided to obtain a copy of this report and it was expected to be distributed among the parliamentarians giving them sufficient time to prepare for the debate.
"But at the start of the sittings, the Speaker said he was unable to obtain a copy of the report and this had led to the commotion. At this point, the Attorney General was also in the House and he would have obviously had a copy. If the Speaker had genuinely wanted to obtain a copy of the report, he could have done so. The report is on a major Central Bank bond scam and the MPs were deprived of the very purpose of being summoned. The Speaker should be held responsible for this unfortunate situation," he said. (Kalathma Jayawardhane)
Video by Sanjeewa