---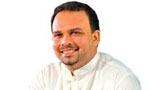 Speaker Karu Jayasuriya today declined to allow JVP MP Sunil Handunnetti from directing a Supplementary Question at Plantation Minister Navin Dissanayake on his assertion that he would quit his Ministerial post if the Finance Ministry proceeded with action to transfer the Tea Board funds to the Consolidated Fund.
At first, MP Handunnetti asked his main question regarding a coconut estate in the Piliyandala area. Then, he asked two supplementary questions on matters arising from the answer to the key question.
Next, he sought permission to raise yet another question about Mr. Dissanayake threatening to quit the Ministerial post.
"This is not relevant to the main question. But, can I ask this question with your permission? ," he asked.
The Speaker shot it down due to its irrelevance.
The Speaker is the father-in-law of Minister Dissanayake.
Therefore, in lighter vein, it was heard the MPs joking that the father-in-law came to the rescue of his son-in-law.
However, the Speaker brushed such jovial remarks saying personal relationships did not matter in doing Parliamentary business. (Kelum Bandara and Yohan Perera)