---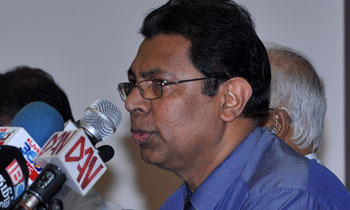 Professor Neville Perera of the South Asian Institute of Technology and Medicine (SAITM) said today that some state universities were substandard and that there were only two or three professors in the medical faculties of some of them.
Speaking at a media briefing convened by the parents of the students of SAITM, he said SAITM did not have junior lecturers. "We have only senior lecturers and professors in our institute, whereas in most of the state universities lectures are given by junior lecturers," he said.
He added that there was nothing called minimum standards in medical education and that it did not require a huge hospital to give clinical practice to a group of about 35 students.
If minimum standards were imposed at least two universities would have to be shut down, he said.
The parents of the students of SAITM, which is currently the centre of a huge controversy, said they had admitted their children to SAITM as it had been approved by the Higher Education Ministry and the University Grants Commission (UGC).
"We enrolled our children to SAITM not out of ignorance. We admitted them as SAITM had got legal approval," said the Private Medical College Parents' Society president, P.M.B.K. Tennakoon.
He said the verdict of the Court of Appeal should be accepted by everyone and it would be contempt of court to go against the verdict.
Mr. Tennakoon said the Sri Lanka Medical Council should respect the verdict of the court and register the SAITM students.
"The SLMC has no option but to accept the court's ruling. What they should do is not criticise SAITM but help develop its standards so that we could secure a huge amount of foreign currency," he said. (Ajith Siriwardana)