---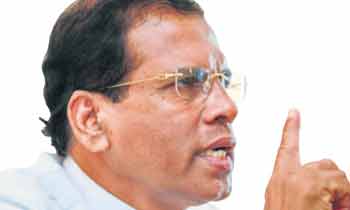 While expressing the need for maintaining some control over foreign travel by ministers and ministry officials, President Sirisena said some those who leave the country to attend conferences overseas fail to return even after the conferences were concluded.
He urged ministry secretaries to control this situation and implement a programme to train all officers, instead of the same officer travelling overseas annually.
The President also emphasized the need for line ministries working jointly in the process of national development, to achieve the development aspirations of the people as well as that of the country.
Expressing his views regarding the transfers of the Divisional Secretaries, the President said a divisional secretary could hold the position for a long period at the same location and added that a transfer policy should be implemented.
He said he had signed many MoUs with foreign countries following his visits to those countries and instructed the secretaries to establish a separate division under an additional secretary, to implement and follow up on these agreements so as to achieve the expected targets.