---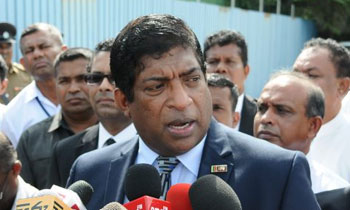 UNP MP Ravi Karunanayake, who faces charges in connection with the Central Bank bond scam, asked for a copy of the commission report today under the Right to Information Act.
He told reporters that some stooges of political party leaders in the government and the opposition were conspiring to destroy him merely for their political survival.
The MP said President Maithripala Sirisena had not accused him of anything in the statement he read out.
"Don't try to create rifts between the President and the Prime Minister. A few people are working with ulterior motives. Government and opposition stooges are conspiring against me. I will not blame the President for this shadow boxing," he said.
When asked by journalists whether he was suggesting that no scam had taken place as mentioned in the commission report, the MP said he did not know about any accusation. "I don't know about the accusations. Some who came from the national list are accusing me," he said.
The MP said 36 reports which were handed over to the President by PRECIFAC should also be revealed.
"It has to be revealed as to who is responsible for the hedging deal which had caused a Rs 76 billion loss to the government. The government had lost Rs.7 billion from the Greek Bonds, Rs.146 billion from Srilankan airlines and the country caught in a huge debt trap. Those who are responsible for these scandals have not been uncovered though people are shouting about one deal. This is most unfair," the MP said. (Yohan Perera)
Video by Buddhi, Susantha