---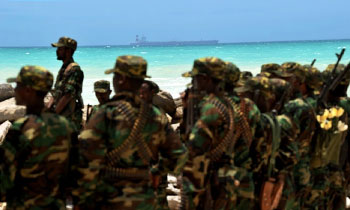 Authorities in Somalia tracking the pirates who have seized an oil tanker with eight Sri Lankan crew members on board said Thursday that they are ready to use force if talks to free the ship fail.
Armed attackers seized the Comoros-flagged Aris 13 on Monday as it made its way from Djibouti to Mogadishu, the first hijacking of a large merchant vessel by Somali pirates since 2012.
The tanker was forced to change course and head toward the coastline of the semi-autonomous Puntland region, on the northeastern tip of Somalia, whose coast guard has contacted the pirates.
"The coast guards are now tracking down the hijackers, they are very close to where they are and talks have started to (get them to) free the boat without condition," said Mohamed Deeq, a member of the coast guard.
"If these efforts fail, the forces will possibly engage them," he added.
Fishermen told AFP that the vessel had moved overnight from its docking point near the town of Alula.
"I think they have concerns about the Puntland coast guard's movement near Alula," said one fisherman, Abdirisak Shawke.
The Aris 13 was about 18 kilometres off the Somali coast when it was attacked, according to John Steed, a former British army officer who heads the Horn of Africa section of the Oceans Beyond Piracy NGO.
He said the vessel was not following the "best practices" put in place to avoid piracy, since it was taking a cost- and time- saving route too close to the Somalia coastline, was travelling too slowly and was without an armed escort.
Village elders of Alula said the pirates had not made clear demands, but claimed to be driven by anger over illegal fishing.
"These are fishermen who are infuriated with the illegal fishing off their coasts. They desperately need to show their grievances by seizing the boat," said Abdiwahab Ahmed, an elder in Alula.
"They have not demanded anything so far, but of course they may need something eventually to free the ship."
Puntland authorities have not issues an official statement, but sources confirmed preparations were underway to engage the pirates by force if they did not release the tanker and their hostages.
Somali pirates began staging waves of attacks in 2005, seriously disrupting a major international shipping route and costing the global economy billions of dollars.
At the peak of the piracy crisis in January 2011, 736 hostages and 32 boats were held.
Some crew members without the means to pay their ransoms were left for years in the hands of their attackers, such as 26 Asian hostages released in October 2016 after five years in captivity.
Though anti-piracy measures ended attacks on commercial vessels, fishing boats have continued to face attacks.(AFP)