---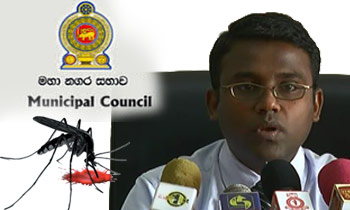 The solid waste management issues erupted following the local government bodies were crippled and resulted in the current dengue epidemic situation in the country, Government Medical Officers' Association (GMOA) today said.
GMOA Spokesman Dr. Samantha Ananda said so far 63,987 dengue patients reported in the country and the total death toll exceeded 200 before the first six months where it was 78 deaths reported for the whole year in 2016. He said 54,727 patients were reported in 2016.
Dr. Ananda said the inefficiency in the solid waste management had increased the dengue breeding spots as the country's garbage collecting mechanism has come to a standstill.
We never had a national level solid waste management programme. However the local government bodies carried a ground level waste management programme very effectively. Therefore during the past years dengue fever was controlled to a certain extent." he said.
Further, he said the issue should be addressed in a broader perspective as the current situation might be developed to an epidemic level. As total death and patient count in the first six month has exceeded the total count of the previous year Dr. Ananda said there is a need for an efficient dengue controlling mechanism.
Dr. Ananda explained the importance to set aside the personal agendas and the need for a collective action at the national level to eradicate the menace.
Meanwhile, he said GMOA would hand over their observations on the situation including the proposals to overcome the situation to President Mathripala Sirisena.
He also said the GMOA would appoint district- wise coordinators in the dengue affected districts and would establish a hotline for medical assistance within the next week. (Thilanka Kanakarathna)