---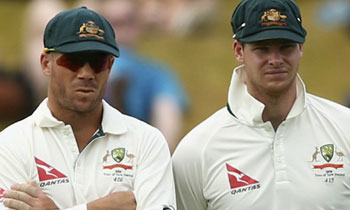 Australia captain Steve Smith and vice-captain David Warner have stood down from their respective leadership roles for the remainder of the third Test in Cape Town.
Wicketkeeper Tim Paine will act as captain at Newlands, with both Smith and Warner set to take the field on Sunday.
Cricket Australia CEO James Sutherland said: "Following discussions with Steve Smith and David Warner they have agreed to stand down as Captain and Vice-Captain respectively for the remainder of this Test match.
"This Test match needs to proceed, and in the interim we will continue to investigate this matter with the urgency that it demands.
"As I said earlier today, Cricket Australia and Australian cricket fans expect certain standards of conduct from cricketers representing our country, and on this occasion these standards have not been met. "
CA chairman David Peever confirmed the board chose Paine, 33, as interim captain.
"The Board of Cricket Australia has endorsed Tim Paine to step in as Acting Captain for the remainder of this Test," Peever said.
"Both Steve and David will take to the field today under Tim's captaincy.
"The Board fully supports the process for an immediate investigation into what occurred in Cape Town. We regard this as a matter of the utmost seriousness and urgency. We will ensure we have all information available to make the right decisions for Australian Cricket."
Smith's departure from the Test captaincy comes in the wake of revelations the Australians admitted to ball tampering on day three.
Opening batsman Cameron Bancroft was captured using yellow tape to alter the condition of the ball in the afternoon session on Saturday before hiding the foreign object in his pants once the umpires got wind of the wrongdoing.
Smith and Bancroft fronted the media after play and confessed the 'leadership group' had devised the plan to manipulate the ball, with Smith taking responsibility for the actions of his team and his rookie opening batsman.
Smith said last night he had not considered standing down as captain, but it appears in the last 12 hours the 28-year-old has had a change of heart.
The morning after admitting to ball tampering, Smith was noticeably absent as his team warmed up ahead of Sunday's play at Newlands.
Last night, Smith took responsibility for Australia's decision to attempt to alter the condition of the ball on day three, an act carried out by Test rookie Cameron Bancroft that was exposed by television cameras.