---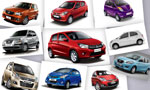 Car dealers were aggressively advertising discounted prices on small cars amid expectations that Thursday's budget could see another revision of tariffs that will favour smaller vehicles.
Associated Motorways, the agents for the popular Suzuki brand was offering discounts of up to 200,000 rupees and urged buyers to "beat the change, own it today."
Micro cars were also advertising a 100,000 rupee reduction on their small car Panda.
Usually, car dealers urge prospective buyers to beat the budget through which duties are increased, but this time they are careful not to suggest a duty increase.
The move after Finance Minister Ravi Karunanayake announced he wanted to make ownership more affordable and tax usage.
However, on bigger cars with an engine capacity of 1,000 cubic centimetres, the duty calculations are likely to be revised with a possible increase in retail prices.
Taxes on three models - Toyota Premio, Toyota Allion and Honda Vezel - were increased between 220,000 to 384,000 rupees from the start of this month because of an increase in the retail price of the manufacturer. (economynext)