---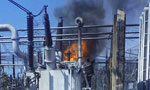 The Power and Renewable Energy Ministry said there appeared to be a similarity between the two unusual explosions that broke out at the Biyagama Grid Sub Station last week and the Kotugoda CEB Grid Sub Station today.
Ministry Secretary Suren Batagoda said the cause of the two explosions still remained a question for the engineers.
He said suspicions have also arisen as to how the two transformers had exploded in the same way amidst the security within Sub Stations in Biyagama and Kotugoda.
"It is still a question even for our senior engineers who have been in the field for more than 50 years, as to what caused the explosions. They told us that such explosions in transformers have not been recorded anywhere in the world," he said.
However, repair work of the transformer which caught fire today is still undergoing and therefore some areas in Negombo covered by the particular transformer had reported a power failure. (Piyumi Fonseka)