---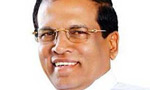 We should take a firm determination to fulfill the aspirations of our people with a firm commitment to make the achieved victories a reality in this May Day in the present context of the nation entering into a new economic and political process with the new democratic and free approach won on January 8, 2015, President Maithripala Sirisena stated in a message to mark May Day.
The whole message: "The red flag carried with pride by the workers around the world symbolizes the centuries old history of the collective victories achieved by them and their unity and solidarity. May Day is the day working people commemorate the unparalleled victories accomplished with the sacrifice of their blood, tears and sweat. The inspiration of the May Day could be acknowledged as the agony and misery of the working people experienced by them in the factories, working places, farmhouses or in any place they work.
The gigantic mechanism called production runs as a result of the collective hard work done by the working people, the cogwheels of the production machinery. In each and every step put forward by the world marks the hard work, tears and sweat of labour.
When the world commemorates May Day, the utmost importance and recognition is bestowed on the worker who sheds tears and sweat. Every flag raised on May Day is a salute to honour the sweat and tears that come from the life blood of the working people.
Since the people's victory in 1956, the working class gradually won many of their rights and privileges and at present we have entered into a more proactive, efficient pathway in this progressive movement.
Hence, we should take a firm determination to fulfill the aspirations of our people with a firm commitment to make the achieved victories a reality in this May Day in the present context of the nation entering into a new economic and political process with the new democratic and free approach won on January 8, 2015. On this May Day, I offer my heartfelt best wishes to the working people to achieve victories while protecting their rights."