---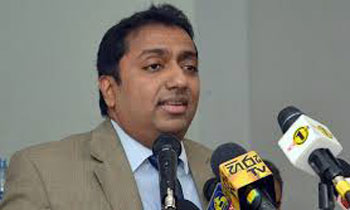 The Government should give some space to establish private universities such as SAITM in the country as all the school leavers couldn't be enrolled into State Universities; Education Minister Akila Viraj Kariyawasam said today addressing media at the Ministry.
Minister Kariyawasam said he was the only person to adjourn a debate in Parliament against SAITM.
"Former President Mahinda Rajapaksa was the person who brought SITAM to the country and we are adopting his baby. I rose against SITAM in Parliament to bring it up to a certain quality and standard," he said.
"If private universities agreed to maintain quality as the Government stipulates there is no objection to providing lands for them," he said.
Two Medical Universities would be established in Kuliyapitiya and Sabaragamuwa. Rs. 2 billion had already being funded by the government for the construction of the Sabaragamuwa medical university.
"According to international standards, there should be a certain number of doctors for certain size of population. Unfortunately we haven't reached that level yet," he said.
"Establishing private universities will help stop flowing foreign exchange to other countries," he said. (Chaturanga Pradeep)