---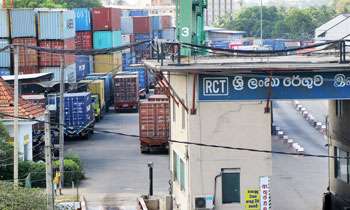 The work-to-rule campaign started by the Customs officials over the replacing of Director General of the Customs Department, Ms P.S.M. Charles, with a retired Navy officer has cost the country thumping Rs 12 billion rupees so far, a spokesman of the Sri Lanka Customs Officers' Union (SLCO) said yesterday.
The Vice President of the Union, Amil Sanjeewa, said that the Rs. 4 billion daily revenue of the department had been reduced by 50 per cent due to the trade union action.
He said that currently imported potato, onion, medicine and frozen food items were cleared by the Customs swiftly but the amount that was being cleared had been slowed down.
The Union said that the trade union action which had currently affected only the imports might affect the exports as well if the authorities did not take remedial action immediately.
Mr Sanjeewa accused the authorities of not taking steps to resolve the issue which is dragging on for the sixth day today.
The clearance of containers has been drastically dropped from 1,500-2,000 to 500 containers a day, which has in turn, affected the functions of the terminals of the Colombo Port as well.
He said that the TU had decided to intensify its struggle from tomorrow as the negotiation with the Finance Minister collapsed.
The Spokesman for the Importers Union, Hemaka Fernando, expressed fear that the Customs Officers' TU action would result in a severe shortage of essential items in the country. He also called on the authorities to resolve the issue soon in order to prevent such a situation. (Indika Sri Aravinda)
Video by Damith