---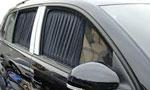 A week long operation inspecting vehicles with tinted or curtained front windows was launched countrywide by the police today.
Traffic DIG Palitha Fernando said vehicles should have clear windows in the front of the vehicle. "The police will strictly implement this law and track down vehicles that have any kind of tinted glass or curtains in the front," he said.
"Use of tinted glasses are appended in Government Gazette 875/08 on 16.06.1995 and Gazette number 1273/28 on 31.01,2003. It is an offence for the windscreen and the two shutters besides the driver to be tinted. A 20% tinted glass could be used only on the top portion of the windscreen,"the Gazette states.
However, it is legal to tint or curtain the back windows and VIP vehicles coming under the purview of ministries are exempted from this law, if they have the necessary approval.
"Motorists will be warned the first time but legal action will be taken if the tint or curtains are not removed," the DIG said. (Darshana Sanjeewa)