---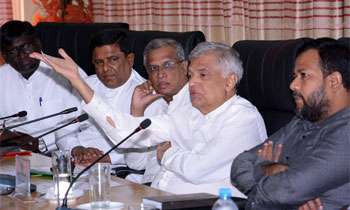 TNA MPs and Minister of Trade and Commerce Rishard Bathiudeen were engaged in a heated argument with regard to resettlement and providing housing during the district development progress review meeting in Mullathivu District over the weekend.
The argument flared up when TNA MPs Charles Nirmalanthan and Shanthi Sriskandarasa charged that Sinhalese and Muslims were given priority when giving these relief. Minister Bathiudeen, who denied the allegation, said requests made by TNA has been considered when recipients are selected.
"Your requests have been granted in return for your support to the government," the Minister said. "We have not made any demand," Mr. Nirmalanathan said hitting back at the Minister. The argument ceased at that moment but flared up again when Ms. Sriskandarasa complained that priority was given to Sinhalese and Muslims.
I don't know why you people talk this way. Your allegations are wrong," the Minister shouted. Prime Minister Ranil Wickremesinghe then advised the TNA MPs to have a dialogue with Minister Bathiudeen and come to an amicable settlement. (Yohan Perera in Mullaithivu)