---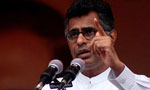 JHU General Secretary and Minister Patali Champika Ranawaka, in a reference to the Central Bank bond scam, today urged the Government to set up a separate Court specialized in hearing such cases.
He told a news conference that those responsible for the bond scam should be brought to book and the Government had no moral right to sweep it under the carpet.
"The Government should introduce a separate court system to investigate such scams if not a separate Court should be allocated for this purpose. Unless wrongdoers are punished, the Government will be stuck in the mud when it comes to economic or social development," he said.
The minister said a special Court should be introduced to investigate and penalize wrongdoers found guilty of crime, fraud and corruption in the past, present and the future and added that the Government had no mandate to cover up such matters. He said the JHU firmly believed that action should be taken against those responsible and added that the law of this country was not applied equally on all citizens but unfortunately some were more equal than others.
The minister said there was no proper coordination among the law enforcing agencies in our country and added that no purpose was served by investigating the fraud and corruption and crimes which had taken place under the former regime if the Central Bank bond scam under the the 'Yahapalana' government was left investigated and hanging in the air. (Kalathma Jayawardhane)
Video by Janaka