---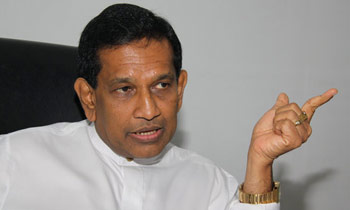 Health Minister Rajitha Senaratne today directed the setting up of a separate ward for dengue patients at hospitals countrywide.
He said he had arrived at this decision after a meeting with the heads of several ministries.
"At present we send dengue patients to the Infectious Diseases Hospital (IDH) in Angoda and the Negombo General Hospital for treatment, but a separate ward for dengue patients is essential at every hospital," he said.
He said hospitals should at least have separate beds for dengue patients even if they lacked enough facilities to provide a separate ward.
He said the parents of schoolchildren should help clean the school premises before the end of the April vacation and eradicate dengue breeding sites and government institutions should follow this.
"Construction sites should also be kept clean since the possibility of the dengue mosquito breeding in such places is considerably high. We cancel their licenses for one month if mosquito breeding sites are found there. It is also necessary to keep fishery harbours clean," he said.
He said steps have been taken to destroy abandoned fishing boats and that officials attached to the environmental police and Public Health Inspectors (PHI) have been assigned to detect mosquito sites. (Kalathma Jayawardhane)