---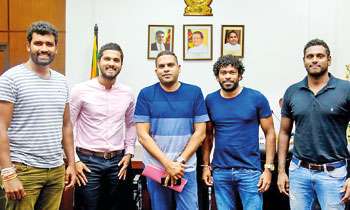 In a bid to sort-out the differences among the players, Minister of Sports Harin Fernando summoned three Sri Lankan players, Lasith Malinga, Angelo Mathews and Thisara Perera at the Ministry Office in Colombo on Saturday (9).
"They all shook hands after the meeting," Sports Minister, Harin Fernando, said yesterday after his joint meeting with the senior members of the Sri Lankan Team. "Dinesh Chandimal was also invited for the meeting. It is because he is still the Test captain."
"Dimuth Karunratne is a temporary arrangement as captain for the South African tour. We wanted Chandimal to regain his confidence and relax," the Minister added.
"The differences were thrashed out during this one-and-a-half-hour meeting which took place closed doors," the Minister said.
"The main discussion at this meeting was how we can move forward as a team. All four senior players will have to put aside their egos and lead from the front. They have to make the dressing room atmosphere healthy. They had some differences which have been sorted out," the Minister explained
"I invited them for the meeting not because I am the Sports Minister but as an individual to advise them how sometimes money, pride and fame could disrupt them in life."
"Another meeting will be scheduled before the players leave for South Africa for the ODI series. I have told them to make the dressing room atmosphere healthy and that's the only way to win the next World Cup in England," the Minister concluded. (Bipin Dani)