---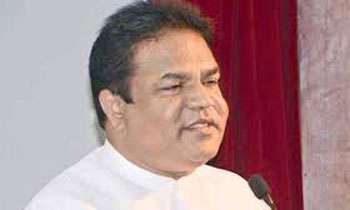 Sena Caterpillar (fall Armyworm) has been originally spotted in America and had later spread towards Africa and Asia, Minister of Agriculture, Fisheries and Rural Economy P. Harrison told Parliament today.
Minister Harrison who made a special statement in the House said the pest had started breeding though the moth that had come along with the blowing of the wind.
"The moth could fly 100km within a day and the wind blow would have helped it to move from country to country," the minister said.
"The insect was first identified in India in 2018 and the Sri Lankan farmers were given a prior warning when it was seen in the sub-continent," he added.
Investigations are being carried out to determine various suspicions and a task force has been established to control the pest. In addition, a sum of Rs.120 million has been allocated for the control of the pest," the minister said.
The minister said cabinet nod has been given through a cabinet paper under which Rs.40,000 will be paid for an acre as compensation.
"University dons, the indigenous peasants who have come with natural methods to destroy the pest have already been consulted to come up with clear ways and means to save the crops from the caterpillar," the minister also said.
He assured that further investigations will be carried out to determine whether there are any acts of sabotage. Minister Harrison said this in response to allegations which the opposition MPs came out with. MP Wimal Weerawansa said the pest had come with imported maize seeds. MP Chandrasiri Gajadeera said the pest has been released into fields by the multinational companies which import pesticides. (Yohan Perera and Ajith Siriwardana)