---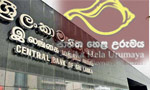 The Jathika Hela Urumaya (JHU) yesterday requested the Central Bank (CB) to seize the excessive profit of Rs. 5.1 billion earned by Perpetual Treasuries Limited as of March, 2016.
JHU National Organiser Nishantha Sri Warnasinghe said the CB Bond Sale scam, through which the Perpetual Treasuries Limited allegedly earned the massive profit, was the biggest heist under the Yahapalanaya Administration.
"The incident is a black mark for Yahapalanaya. The entire country knows who the culprits of this infamous scam are. We are all waiting for action," he told a news conference.
He said the latest COPE report on the incident was due soon and that the CB too had launched an internal investigation into the scam.
"The CB report, however, was leaked. The CB should make sure action is taken against those who are responsible for the scam without focusing on digging into those who leaked the report. After all Dr. Indrajit Coomaraswamy, the new head of the CB is known for integrity and transparency," he said. (Lahiru Pothmulla)
Video by Buddhi