---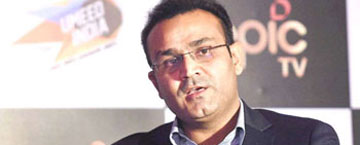 Virender Sehwag has slammed Sri Lankan players for wearing masks and complaining about smog on the second day of the Delhi Test, calling it a pre-planned strategy, the DNA reported today.
He said that the it was meant to stop Virat Kohli from scoring a triple century.
While speaking to a TV channel after the day's play, Sehwag said, "It was all a strategy against Virat Kohli. They wanted to stop him as it seemed that he was inching towards his triple century."
"They could have requested the BCCI to host the match in some other city two days before the match if they felt uncomfortable. But it seems like it was all a plan to stop Kohli from reaching 300 runs," he added.
Sehwag said that the Sri Lankan players 'acted' really well. He explained, "When they came to bat, they didn't wear masks. Did the pollution level reduce all of a sudden then? It was the same. Indian players batted in the same condition and they were all good."
Sehwag recalled how this is not the first time Sri Lankans have done something against the spirit of cricket. He said, "This is not the first time that Sri Lankans behave like this. In 2010, they bowled no-ball while was batting on 99 and we needed 1 run to win."
He added, "This is not sportsmanship conduct. Match referee should give his report to the ICC regarding the matter that went down."
Behind in the match and struggling in the conditions, several Sri Lankan players returned from the lunch break sporting facemasks as the seasonal haze affecting the region thickened over the Feroz Shah Kotla Stadium.
The smog eventually held up play twice and 22 minutes was lost in total as Lahiru Gamage and his pace colleague Suranga Lakmal both left the field during the second session as they found it difficult to breathe.
Umpires Nigel Llong and Joel Wilson were discussing the air quality with the tourists when Kohli declared India's first innings.