---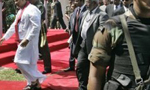 State Minister of Defence Ruwan Wijewardene today said the withdrawal of military personnel from former president Mahinda Rajapaksa's security detail was never aimed at humiliating him or putting his life in danger.
Addressing a ceremony to mark the launch of the fifth phase of the 'Virusara' Privilege card at the Light Infantry Headquarters in Panagoda, the minister said specially trained police personnel would replace military personnel in Mr. Rajapaksa's security division.
Minister Wijewardene further said that military security was not given even to President Maithripala Sirisena, Prime Minister Ranil Wickremesinghe or to himself as the State Minister of Defence.
The State Minister emphasized that tri-forces security should be provided not for VIPs, but for the national security.
According to the Security Council's decision to withdraw military security from VIPs, no politician will be provided with military security hereafter, the minister added.
"During the last regime, our military personnel had to carry even sandbags when they participated in some sports events organized by the children of VIPs," he recalled. (Piyumi Fonseka)