---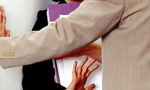 The second suspect wanted in connection for allegedly sexually abusing a group of female trainees at a private youth-training centre in Hantana, was arrested by the Kandy Police today.
Last week, Chandimal Gamage (39), head of the private youth-training centre was arrested on charges of sexual abuse and later remanded till August 11 by Kandy Chief Magistrate Buddhika C. Ragala.
The suspect, a resident of Wariyapola was arrested during investigations into complaints made by the victims to the Women and Children's Bureau of the Kandy Police.
The victims had given individual statements regarding the incident to the police.
The second suspect was arrested when he surrendered to the Police and is to be produced in court later today.