---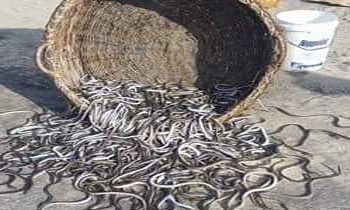 The sea species which were found trapped in fishing nets at Nawaladi in Batticaloa had been handed over to the Eastern University for further investigations.
Hundreds of sea-snake like species were caught by the fishermen in the area on Sunday.
However, a University source said the species was more akin to a fish species rather than a snake species.
The fishermen who caught the species said they were facing difficulties when continuing with their livelihood because of the rough seas and the incident involving 'sea snakes'.
According to reports, a large number of sea snakes had been caught in the wake of the 2004 tsunami as well.
Some residents said the sea snakes were really a species of eels and that the adverse weather conditions might have triggered their exodus towards the fishing nets. (T.l. Jawfer Khan)