---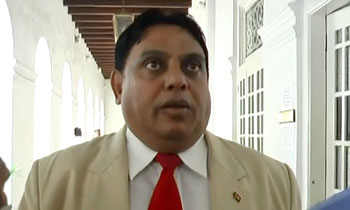 Responding to allegations that a cash strapped government was attempting to bring in Rs. 400 million (QR 9 million) from a Sri Lankan school in Qatar to be used for its own expenses, Ambassador to Qatar A. S. P Liyanage assured that not a single cent from the school would be spent here and will be utilised to develop the school overseas.
Speaking to journalists after a discussion with State Minister for Foreign Affairs Wasantha Senanayake, Mr. Liyanage said that some parents of students attending the Stafford Sri Lankan School in Doha had alleged the administration of the school was fraudulently collecting money from the students there.
"They said the administration was using the name of the Embassy to collect funds from the students. But none of these funds had been used to provide much needed infrastructure facilities to the school," he said.
As a solution to the issue, Mr. Liyanage said the school would not be closed down and that the Foreign Ministry had directed the Embassy to take over the school from September 10 under a sponsorship programme. "We appoint a board of directors and administrators from among the parents for the school and it will be they who will control the funds on behalf of the school," he said.
Liyanage went on to say the embassy had received numerous complaints about the current administration's unfair treatment of students. The embassy had to equip the school with an air-conditioning system and a laboratory recently.
"The Qatar government has donated a piece of land to construct a new building for the school. As the President is scheduled to visit Qatar on October 26, the laying of the cornerstone for the school building will take place during his visit," the ambassador said.
Discussions were also held with the Foreign Ministry to ensure that students who get good grades at the school are given the opportunity to enter Sri Lankan Universities to pursue their higher studies.
The school was inaugurated in October 2001 and since 2011 it has been affiliated to the Sri Lankan community and runs as a non-profit organisation. It is being run on a rented premises and has around 1,200 students. The school follows the Edexcel Curriculum. (Darshana Sanjeewa)
Video by Indika Sri Aravinda