---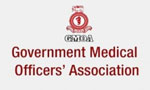 The Government Medical Officer's Association (GMOA) today warned that doctors would be compelled to leave the country because of the difficulties they undergo when looking for schools for their children.
It said the country would lose its doctors if they go overseas because of the Government's failure to admit their children to national schools.
GMOA Secretary Dr. Nalinda Herath told a news conference that more than 200 children had been deprived of admission to State-run schools this year.
He said some doctors are transferred every four years according to the special transfer scheme and some doctors go for overseas training, and hence find it difficult to show five-years of permanent residence to get national school admission for their children.
When inquired by Daily Mirror, Education Ministry Secretary W.M. Bandusena said the ministry had already reached an agreement with the doctors of the GMOA and specialists with regard to this matter. (Piyumi Fonseka)
Video by Richan