---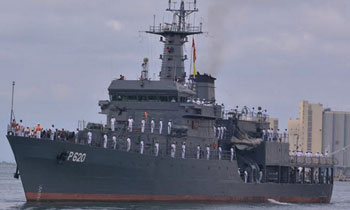 Sri Lanka Navy's Flagship Offshore Patrol Vessel (OPV), SLNS 'Sayura' left for Malaysia last evening from the Colombo Port to take part in the Langkawi International Maritime & Aerospace Exhibition (LIMA) 2017 which is to be held on Langkawi Island in Malaysia.
During this visit, Commodore Prasanna Amaradasa is at the wheel as the Commanding officer of the ship and the ship's crew is comprised of 215 naval personnel, the Navy said.
The LIMA-2017 is expected to be attended by 40 ships across from the globe. This international exhibition is held once every two years in a bid to strengthen international cooperation among countries and this year's exhibition marks its 14th successful effort.
Twenty four personnel from the recently established SLN Marine Battalion will also feature in this year's exhibition.
A wide range of programmes including cultural shows, fleet reviews, joint naval and air exercises are scheduled to be held as part of LIMA-2017 which is due to be conducted from 21st to 25th of this month.