---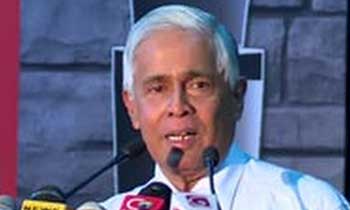 The petition filed by former Chief Justice Sarath Nanda Silva in the Supreme Court, was challenged by Unawatuna Koswattage Aruna Laksiri of Padukka Handapangoda claiming that the former Chief Justice's petition is prima facially faulty.
He has requested the Supreme Court not to grant relief sought in the petition and to dismiss it.
The intervening petitioner claimed that 225 Parliamentarians elected by the people represented the sovereignty of the people and the petitioner Silva who had filed the petition had not taken notice of that fact.
He alleged that Sarath N. Silva by the petition had erroneously cited Article 3 and Article 4 of the Constitution in order to execute the Sovereignty of the people erroneously.
The intervening petitioners also allege that Sarath Nanda Silva had attempted to destabilize the legislative power vested on the Parliament by Articles 75 and 76 of the Constitution.
He asserted that Mr. Silva's request to the Judiciary to enforce its vested Fundamental rights powers on the Parliament is an attempt to control/ to tame or to take precedence to the existing legislative powers of the Parliament and an attempt to prevail over the legislative powers of parliament.
The intervening petitioner further alleges that naming the Speaker of the Parliament as the second respondent to the petition was a violation of the Powers and privileges of Parliament.
The Petition claims that the petition was bad in law since Sarath Nanda Silva had violated Sections 126,17,19,11, 12,13 and 14 of the Constitution by naming the Speaker as a respondent to the petition although the speaker was protected by the constitution from being naming as a respondent for all actions done in Parliament.
The intervening petitioner also state that there are limits for the Supreme Court to act on the legislative powers vested on the parliament and no other power is vested on the Supreme Court to act further than those limits.
The intervening petitioner pleads to dismiss the petition of Sarath Nanda De Silva claiming that if the court consent to hear that petition it would generate a conflict between the Parliament and the Judiciary as the Petition was in opposition to the Constitution of the Country. (T. Farook Thajudeen and S.S. Selvanayagam)