---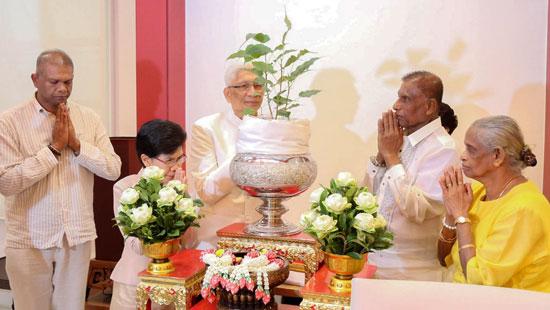 A sapling of the Sri Maha Bodhi was presented to the 10th King of Thailand, Maha Vajiralongkorn by Buddhasasana Minister Gamini Jayawickrama Perera today.
The sapling was taken to Thailand by Minister Jayawickrama Perera on behalf of the President and gifted to the King on his coronation which would be held in May this year. The President was originally supposed to attend the event.
The President Media Division (PMD) said the bo-sapling sent by Sri Lanka was the first diplomatic gift given by any country to the new king.
The sapling was later planted at the Vajiradhammarama at Ayutthaya under the aegis of Thailand Prime Minister Prayut Chan O Cha and the minister.
Atamasthanadhipathi Ven. Dr. Pallegama Siriniwasa Nayaka Thera and chief prelates of Thailand attended the event.