---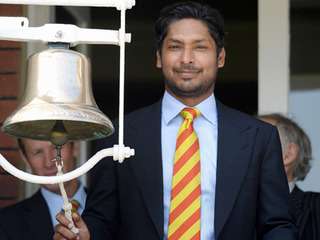 Kumar Sangakkara has expressed inability to deliver the annual MAK Pataudi Lecture, the guests and subject of which has become a hot matter of debate among the sections of the BCCI. The former Sri Lanka skipper has told the BCCI that he is pre-occupied with a commentary assignment and cannot be present during the second week of June in Bangalore where the annual event is to be held.
Various communications and email trail shows that Committee of Administrators (CoA) chief Vinod Rai wanted Sangakkara to be finalised to which BCCI's General Manager (Operations) Saba Karim says he has not managed to get in touch with Sri Lanka (till 7 pm on Friday). But Mirror understands that the BCCI eventually managed to reach Sangakkara.
Saba refused to disclose the availability of Sangakkara but according to other BCCI officials, the Sri Lankan would be busy with Sky Sports commentary for the England-Australia ODI series in England. Saba has suggested three other names – Nasser Hussain, Kevin Pietersen and Sourav Ganguly – but understandably, Hussain too will not be available. "We'll finalise soon," the BCCI officials said.
However, the selection of Sangakkara or the other three has ruffled the feathers of the BCCI members — Amitabh Choudhary has dashed off a missive to the CoA stating none of these names were discussed when they had met.
"Unfortunately, when the proposal came there was no mention of any of these past cricketers. As I understand Tiger Memorial Lecture is not an elocution contest and reasonable communication skills are all that we should look for. "It is meant to bring to the fore the evolution of the game, what it meant to play for the country in the old days, the hardships of the time, challenges of the future and the like," the acting secretary wrote to the CoA saying, "I had suggested we also look for probable speakers amongst distinguished cricketers of yesteryears such as Nari Contractor, Chandu Borde, Erapalli Prasanna and Abbas Ali Baig."
Choudhary, however, said he would be helpless if his suggestion is not respected. "As in the past on so many occasions, if overruled, I will have no option but to go with the decision which emerges from these communications," he wrote.
According to the mail, a copy of which is with Mirror, Saba suggested three topics for the lecture: "1) Peace and sustainability through Cricket — relevant since Afghanistan is a wonderful story 2) Behaviour and conduct of international players in the modern age — players perspective and 3) Cricket as an Olympic Sport — way forward — but the BCCI is yet struggling to identify the guest who can be given one of the topics." (Source: Mumbai Mirror)