---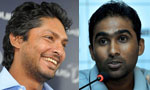 The European Union (EU) delegation to Sri Lanka will partner with cricketing legends Mahela Jayawardene and Kumar Sangakkara to raise awareness on Violence Against Women (VAW), the Union said today.
Mahela and Kumar have joined the EU Delegation to help put an end to VAW in Sri Lanka through the 'Let's Hit Violence Against Women for a Six' campaign which will be launched on November 25 to mark the International Day for the Elimination of Violence Against Women.
"We are delighted to have Kumar and Mahela as our EU envoys," Counsellor Paul Godfrey said.
"Violence against women is a very serious and deep-rooted problem in Sri Lanka. Unfortunately, studies have indicated that perhaps half of women in Sri Lanka have experienced some form of violence. But speaking out in public about the problem has been taboo. The decision by Mahela and Kumar to make a stand on the issue will help make it acceptable to talk about these issues in public as a way of raising awareness about and ultimately, eliminating Violence against women,"